Mika has been at TWU since 2000 and is married to Greg and they have two boys Rhett and Luke. She got her Master of Divinity with Biblical Languages from Southwestern Baptist Theological Seminary. She would love to drink a cup of coffee with you to talk about life.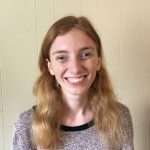 Cindy Finefrock
Campus Missionary
Cindy graduated
from TWU in 2018 with a Master of Science in Counseling and Development and in 2015 with a Bachelor of General Studies.  You may reach her at the BSM if you would like to talk and get
connected!
Our Missions team works with our spring break mission trip, local missions opportunities, and international student ministry.
Our Outreach team works with campus ministry opportunities, new student ministry, and dorm ministry.
Our Discipleship team works with small group Bible studies like Grounded Groups and special events.
If you are interested in helping in doing stuff with Medical Missions, or are interested in doing something else to reach out to the TWU community or getting involved with our Denton area churches, please let Mika or Cindy know!